Up to 80% funding available to implement safe management measures with Novade. Comply with BCA and integrate with the Build-SG COVIDSafe Platform (CSP) today!
Novade Can Help Singapore Contractors Operate with
Safe Restart Digital Solutions

Single site management platform for ease in safe restart
Manage safety for your worksite, workforce, accommodation and transportation​
Monitor and manage potential cases in real-time ​
Critical tool for safe management officers (SMOs) and safe distancing officers (SDOs)

for construction firms in Singapore to implement Novade's Safe Restart package,

including IoT hardware and integration for your safe management measures

In partnership with:

Manage COVID-19 Safe Restart in the Field​ with a Single Site Management Platform

Overview of Novade Safe Restart




In Compliance with the Building & Construction Authority (BCA)
IMDA Pre-approved Safety & Health Management System for Construction Firms

Tap on PSG or ADS funding today to go paperless with Electronic Permits-to-Work (PTWs) system while digitizing your safety processes!
Bluetooth dongles & wearables
Facial recognition cameras
BuildSG-COVIDSafe Platform (CSP)
Functionalities to Operate Safely
Automate Builder/Occupier Daily Report for Submission to BCA



Simple submissions for approved-to-work construction sites

Easily capture data of personnel entering sites with the 15 different field requirements

Choose to mass check-in, self check-in or for visitors to check-in

Integrate with information collected from IoT devices

Easily export the data via Excel/CSV file for BCA submission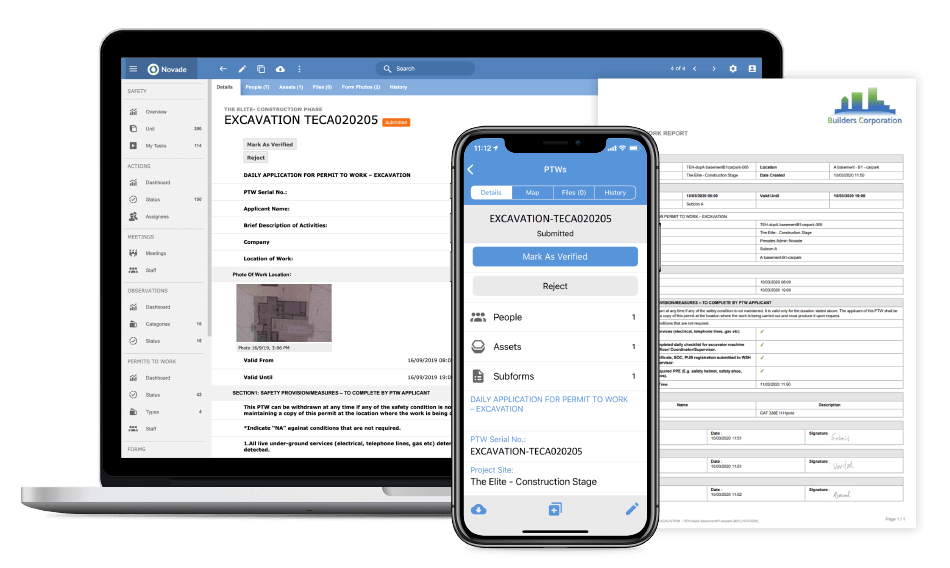 Effectively Ensure Compliance


Digitise Permits-to-Work (PTWs) and safety forms



Enforce safety standards: create custom templates for forms or Permits-to-Work such as hot work, lifting, work at height, etc
Ensure proper measures are in place before commencing work
Identify workers, view their qualifications and ensure they all have valid credentials
Identify equipment, view their certificates and ensure they can operate safely
Increase accountability: submit and digitally sign off directly from mobile devices
Get visibility on all dangerous activities in real time
Conduct Digital Safety Inspections




Assign corrective actions on the spot
Conduct

 inspections and lodge non-

conformities 

Select

 standard descriptions;

​ 

take and annotate pictures

Assign

 corrective actions on the spot 

with starting dates, completion and 

levels of severity

Generate 

reports automatically; option to 

customise report format to match client 

requirements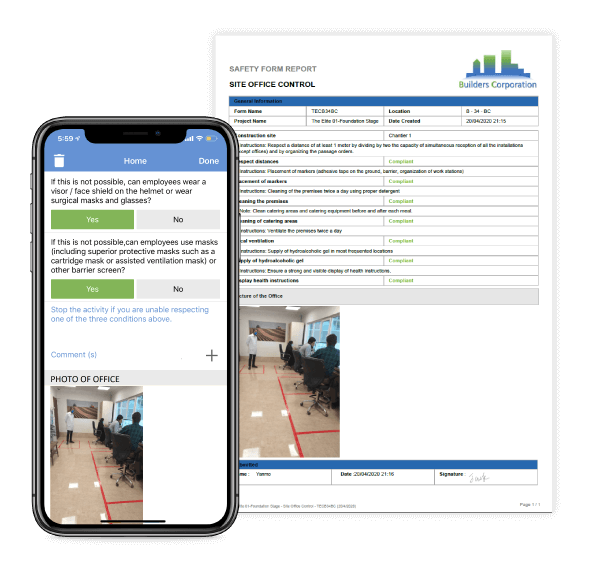 Assign & Monitor Corrective Actions​

Create corrective actions with locations and photos
Assign corrective actions to designated persons for rectification works
Monitor progression of corrective actions
Capture data of before and after rectifications for seamless workflows
Generate and archive reports automatically with the option to download for submission to authorities​
Empower Teams to Keep Everyone​ Safe

Empower workers in the field to report observations with photos from their mobile devices
Highlight safe working practices observed to provide positive reinforcement
Verify and assign corrective actions remotely for non-compliance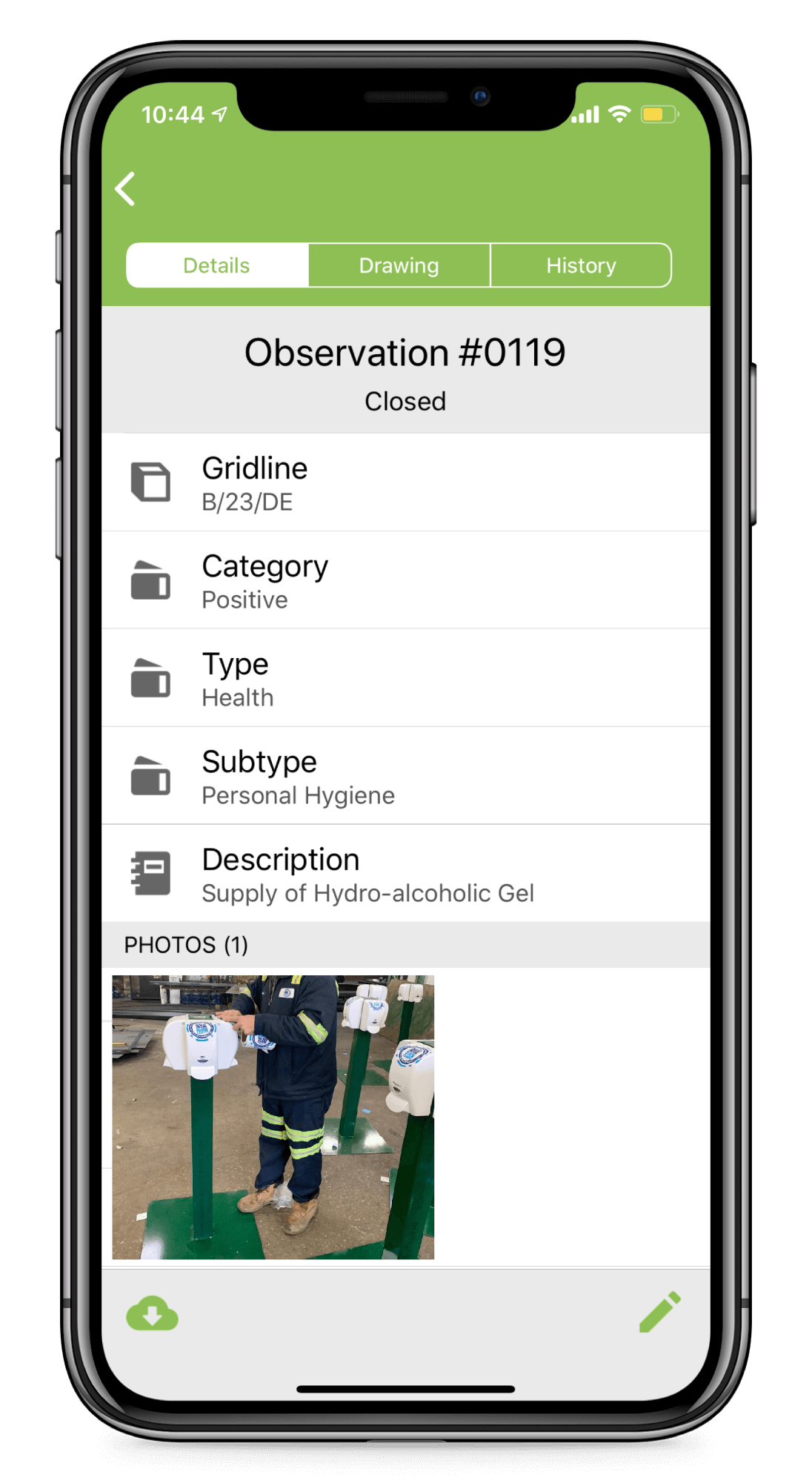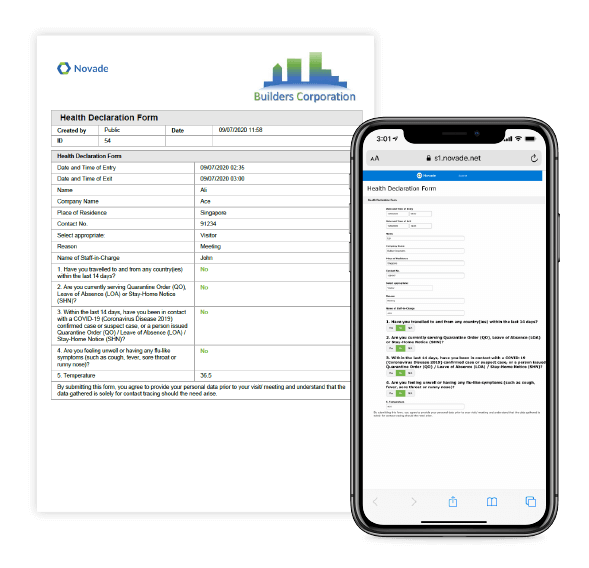 Daily Health Declaration Forms​

Daily submission of paperless health declaration forms prior to entering site
Remotely review all health declaration forms
Maintain digital records for auditing purposes
Retrieve records anytime for submission to relevant authorities
Potential Cases & Incident Reports

Customise

 digital forms to help 

manage potential and confirmed cases

Input detailed information 

such as 

workers' particulars and symptoms

Attach 

documents required by the 

authorities

Generate and archive 

reports

 automatically with the option to 

download for submission to authorities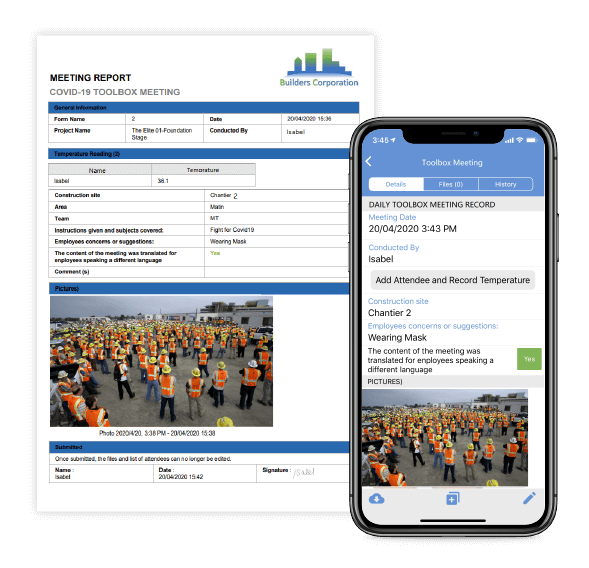 Prioritise Health & Safety with Digital​ Toolbox Meetings

Engage your teams: reinforce focus on health and safety basics and good practices to prevent COVID-19​
Ensure all employees are briefed on safety procedures​
Record safe attendance via a contactless process
Remotely review all meetings conducted at a glance
Maintain digital records for auditing purposes
Manage Movement with Transportation Forms

Track vehicle movement with assigned vehicle numbers and drivers
Manage personnel in designated vehicles through a contactless process
Remotely review all records at a glance
Maintain digital records for auditing purposes



Easily Record & Report Body Temperature​



Capture and record body temperature with QR codes

Track the location and time of 

temperature taken via a 

contactless 

process

Remotely review 

all records up to 28 

days 

Maintain 

digital records 

for 

auditing purposes

IoT Integration –
Thermal Scanners​​​

Automate temperature taking for field operators entering and leaving the worksite
Tag each worker's temperature to their profile using facial recognition
Deny entry to persons detected with high body temperature
Integrate seamlessly with Novade's platform through API
Retrieve data from a single source of information

Control Movement with
Location Tracking​​

Check in and out with QR codes
Monitor site movement remotely and efficiently with real-time updates from the field
Identify non-compliance and take corrective actions promptly
Export data easily with a user-friendly interface for audit purposes

IoT Integration – Facial
Recognition Cameras​​​

Facial recognition for field operators entering and leaving the worksite
Prevent unauthorised personnel from entering site
Integrate seamlessly with the Novade platform
Retrieve data quickly with a single source of information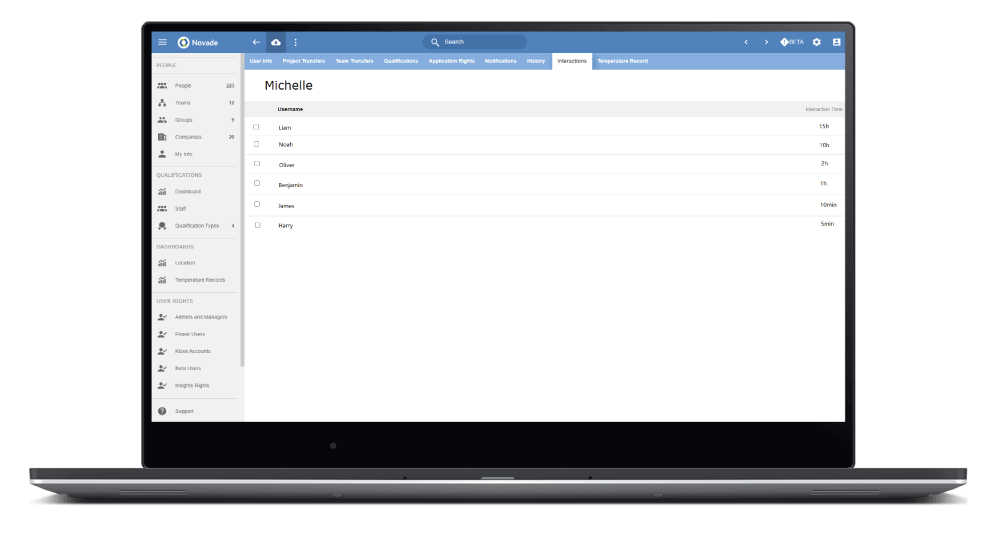 Contact Tracing with Bluetooth​​

Bluetooth contact tracing 

is enabled 

for all registered personnel on their 

mobile devices

Retrieve records of those who come in 

close contact

 with 

approximate time 

and duration

Identify non-compliance 

and take 

corrective actions promptly

 

Export information 

easily

 

for 

reporting or auditing purposes

​IoT Integration – AI Cameras &
Wearables​​

Monitor for any violations of safe distancing measures with AI cameras
Detect unsafe behaviours: e.g. workers not wearing masks, overcrowding, etc.
​​Get alerted by wearables when workers come in close contact
Integrate with the Novade platform to facilitate real-time notifications and reporting
*Requires purchase of hardware

Conduct Contactless & Virtual Inspections​​​​

Reduce number of inspectors on site
Pre-defined and contactless approval process
Notify subcontractors remotely of any non-compliance
Monitor the status of all safety controls in real time

Option to include Novade's Quality module to digitalise quality checks and reduce costs of rework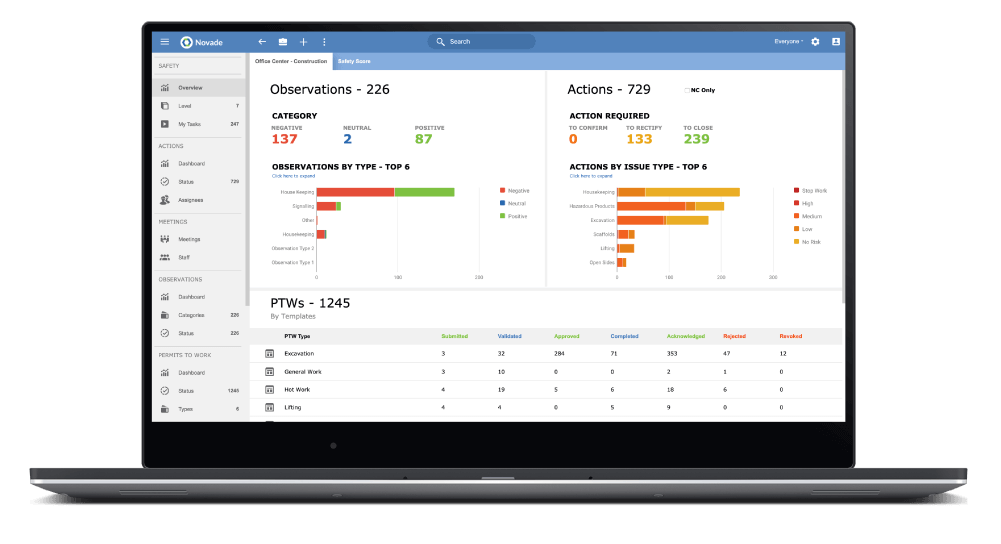 Monitor Adoption of New
Measures in Real Time​

Novade Can Help You Operate with
New Health & Safety Measures
Enforce new standards in the field rigorously and consistently
Reduce contact with digital data capture and digital approval processes
Manage corrective and preventive actions effectively
Monitor conformance and adoption remotely
Trace contacts 

and digitally record all processes

Detect issues 

before they occur by applying analytics

​

Retrieve data 

for authorities' submission
Let's Collaborate During this Challenging Period​
Protect Your Teams
Enforce new standards and implement contact-free processes.
Enforce Compliance
Rule-based system ensures rigorous enforcement and control on new norms.​
Maintain Productivity
Enforce new norms effectively with minimum impact on your operations.​
COVID-19 Safe Restart - Funding